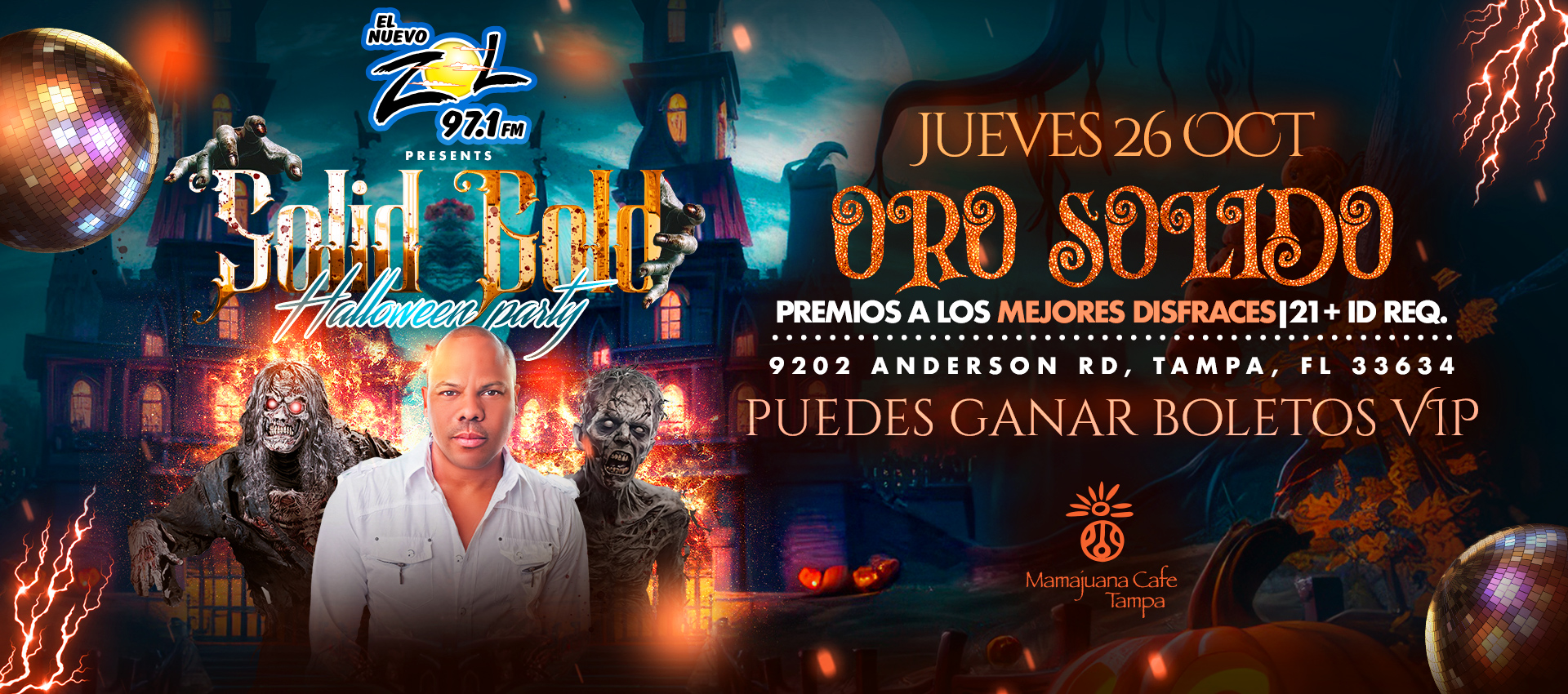 Oro Sólido en Privado Halloween Party
El Zol 97.1 te invita a una fiesta de Halloween con mucho swing! Se uno de los oyentes VIP que podrán ir al concierto de Oro Sólido solo por invitación en Vibras by Mamajuana Café Tampa el jueves 26 de octubre en 9202 Anderson Rd, Tampa, FL 33634. Baila hasta que te duelan los pies al ritmo del contagioso merengue de Oro Sólido junto a todos los DJ's de El Zol 97.1 fm. Conviértete en un oyente VIP para tu oportunidad de ganar dos boletos para esta fiesta de Halloween súper exclusiva.
---
Rules and Regulations
Contest Prize:
Dos boletos para el concierto privado de Oro Sólido en Vibras de Tampa. 
Contest Prize Value:
$150 
Contest Start Date :
29 Sep 2023
Contest Start Time:
2 p.m.
Contest End Date:
24 Oct 2023
Contest End Time:
2 p.m.
Contest Winner Will Be Selected on:
24 Oct 2023 
Stations this contest runs on:
Tampa – El Zol 97.1
Restricted Participants:
– Employees or agents of (i) Sponsor(s), (ii) Co-Sponsor(s), (iii) their respective parent companies, subsidiaries or affiliates, (iv) their service agencies or independent contractors, and (v) other stations in the service area are not eligible to participate.
– Persons involved in the development, production, distribution of materials, or the selection of the winner for this Contest are not eligible to participate.
– Persons who are immediate family or who reside in the same house of any person who is in any of the above categories are not eligible to participate.